Millions of pounds stolen from Scots companies in scams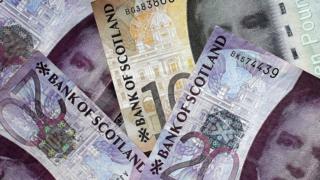 More than a total of £4.7m has been lost to fraudsters by businesses and organisations across Scotland in the past few months, police have said.
The money was stolen from bank accounts in the Highlands, Fife, Glasgow and Ayrshire.
Police Scotland said fraudsters also made unsuccessful attempts against firms in Edinburgh and Aberdeen.
Known as a vishing scam, it involves software to make numbers in phone calls appear genuine and also fake emails.
The organisations in the Highlands have included the Highland Hospice in Inverness, which which lost £570,000. Some of the money has been recovered.
The hospice was among organisations and companies in the Highlands that lost a total of about £2.5m in a vishing scam over the summer.
Last week, another business in the region was defrauded out of a high six-figure sum of money, according to police.
'Double check'
Police Scotland has urged businesses to be vigilant to scams.
Det Insp Iain McPhail, of the force's Economic Crime and Financial Investigation Unit, said: "Any activity of this nature is unacceptable, but to defraud money from a charity with the primary purpose of providing palliative care is utterly disgraceful.
"We are carrying out a thorough investigation into this incident and other businesses involved.
"We are also working with the companies' banks as part of the investigation and also to recover the money that has been taken."
Det Insp McPhail added: "These incidents are unusual in their scale for the Highlands but there is nothing to suggest that the north of Scotland is being particularly targeted.
"However, I would again urge people to be on their guard against unsolicited calls from someone claiming to be from their bank.
"Always double check numbers you're given to call back on or call through the main customer care number for the organisation and ask to be put through."
'Abhorrent crime'
The officer said that if people decided to ring back and verify a call it was advisable to do so on a different phone line, such as another landline or mobile.
He said: "If you are still unsure, consider visiting your local branch instead of speaking to someone over the phone."
Highland Hospice chairman Forbes Duthie said staff at the charity, which provides care to people who are terminally ill, were shocked by the crime.
He said: "The stolen funds had been raised through the generosity and significant efforts of hospice fundraisers and supporters to help us care for our patients and support their families, which makes the crime especially abhorrent."