Plan to manufacture 'piles of snow' at Glencoe Mountain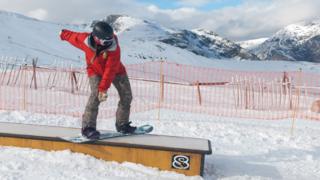 The operators of Scotland's oldest ski area plans to make enough snow artificially to guarantee snowsports every season.
Glencoe Mountain hope to buy a "factory" to build "massive snow piles" in November so the centre can open for snowsports on 1 December each year.
The snow would be spread on the resort's new Coire Pollach ski run and sledging area.
The centre, which dates to 1956, said last season was its worst on record.
Only 32 days of skiing was possible in poor conditions. Glencoe Mountain said the industry term for the snow mixed with grass and mud experienced was "agricultural".
Just two years ago, the resort was rated as having the "best powder snow on the planet" following heavy snowfalls.
National snowsports body, Ski-Scotland, has already described the most recent snowsports season as "challenging" for all Scotland's outdoor ski centres because of a lack of snow and mild temperatures.
'Tight timeline'
Glencoe Mountain, which is crowdfunding to raise money to purchase the factory, said it was aiming to be able to have set opening and closing dates for snowsports every season.
The resort's Andy Meldrum said: "Supplier TechnoAlpin currently have a Snowfactory unit reserved for us and as long as we place our order by October the unit will be delivered in November.
"It will be a tight timeline but we would hope to start making snow in November for a December opening."
'Game changer'
If it goes ahead, the venture would be the first of its kind in Scotland. The equipment can make snow in temperatures as high as 25C.
Mr Meldrum: "It will allow us to have a set opening and closing date for the season - early December to early May - and guarantee at least some skiing and sledging throughout the whole winter.
"This really will be a game changer for Scottish skiing, one that will provide a huge boost not only to the ski industry but to the local economy."
Other outdoor snowsports centres have also been looking at how to improve their chances of offering skiing and snowboarding.
Last month, CairnGorm Mountain said it was pushing ahead with a plan to build artificial slopes so it could offer the pursuits year-round.