Argos removes catalogues from stores to 'test demand'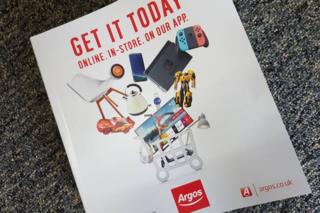 Traditional glossy catalogues have been removed from a number of Argos stores as increasing numbers of consumers choose to shop online.
The retail giant said the move is part of a small scale trial "testing demand" for the take-home glossy catalogues.
It is understood that the two stores in Inverness - at the city's retail park and in the Eastgate Centre - are part of the experiment.
But it has sparked an outcry among some shoppers on social media.
Sheena Hendry said it was "astonishing" that there were no catalogues to pick up from an Argos in the Highland capital.
In a message to the business on Facebook, she said she was disappointed that there appeared to be plans to phase them out.
She said: "Do you even realise how many hours of peace and quiet that catalogue gives to parents of young children who sit flicking through the toy section?"
Speaking to BBC Scotland news, she said: "I love the Argos catalogue. It's great for browsing and getting inspiration, and the kids love it especially at Christmas.
"I wouldn't even mind paying a couple of quid for one."
She said a member of staff told her it was a trial and that she should contact the company with feedback if she wanted them to return to the store.
A spokeswoman for Argos said: "As increasing numbers of customers choose to shop with us online, for a limited period we are testing demand for the take-home catalogues in a small number of stores.
"Catalogues continue to be available in the vast majority of our stores for customers who want them."
Argos was acquired by Sainsbury's as part of its £1.4bn takeover of the Home Retail Group earlier this year.
Last week Sainsbury's chief executive, Mike Coupe, launched Argos click-and-collect points at 100 Sainsbury's Local stores in time for Christmas.