Rare close encounter with sunburned dolphin Spirtle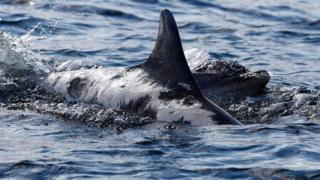 A dolphin's sunburn injuries have been seen up close in a rare encounter with the animal.
University of Aberdeen scientists and Whale and Dolphin Conservation field officer Charlie Phillips saw the bottlenose dolphin, who is known as Spirtle, from a boat during a research trip last week.
Spirtle was badly sunburned while she was stranded out of water on mudflats for 24 hours last May in the Cromarty Firth.
She was spotted by chance at the time by a couple who had got lost trying to drive to a dolphin-watching spot at the Moray Firth.
Rescuers refloated the dolphin but did not think she would survive.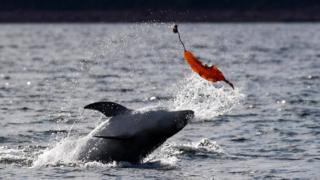 Ever since, the University of Aberdeen has been monitoring Spirtle's recovery from its Lighthouse Field Station at Cromarty.
Mr Phillips, who has also been observing her behaviour in the Cromarty Firth, said it was rare to see Spirtle so close.
He said following the weekend's encounter: "She is just wonderful.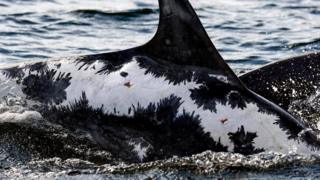 "Normally she is a bit shy about approaching boats but her and a few others were almost pushing the Aberdeen University research boat out of the way after a great game of seaweed throwing."
He added: "Amazing to be in her company on that research trip."
All images are copyrighted.