Dragon wows crowds at Carrbridge chainsaw contest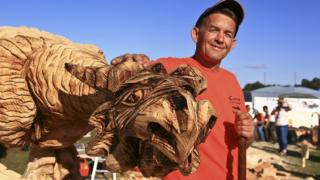 An intricate carving of a dragon has won top prize at this year's chainsaw carving contest.
The work by first-time entrant Ramondas Uzdravis took the coveted Claymore Trophy at the Carve Carrbridge event.
Lithuanian Uzdravis also won the Carvers Choice Award and was named Best New Entrant at the Cairngorms event.
Those entering the contest, which is now in its 15th year, are banned from using all tools apart from a chainsaw for their creations.
Twenty-four entrants from across the world took part in this year's event, which also doubles as the Scottish Open Chainsaw Carving Championships.
Seasoned Carve Carrbridge entrant Tim Burgess was named runner-up with his Good Knight piece, while third place and the Peoples Choice Award was taken by former champion Pete Bowsher with his golfer Four Carrbridge entry.
More than 4,000 people attended the event, which aims to see what the carvers can make from a piece of Sitka Spruce, measuring 22 inches in diameter and eight feet long in four hours.