Community gambling campaign in Inverness a first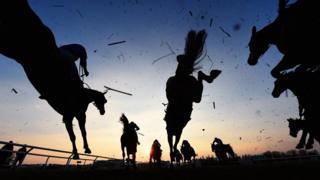 An area of Inverness has been the focus of a responsible gambling campaign.
The Association of British Bookmakers in Scotland, which is funding the initiative in Merkinch, said it was the first of its kind in Scotland.
Usually the campaigns are rolled out nationwide and not concentrated on a specific area.
The number of bookmakers in Merkinch has been a cause of concern, with worries that opportunities to gamble were too readily available.
Local charity For The Right Reasons, which offers support to recovering drug addicts, had called for a review of licensing laws to better control the number of bookmakers.
The charity, along with bookmakers Ladbrokes and William Hill, is supporting the community campaign.
The initiative includes posters and leaflets, both in English and Polish, offering advice on how to gamble responsibly and information on how to seek help.
Confidential one-to-one counselling sessions are to be offered at Merkinch Welfare Hall next Thursday and Friday.
The sessions will be open to anyone living in Inverness.
Counsellors are also to give a presentation to senior pupils at Inverness High School as part of an ongoing campaign by ABB Scotland to educate secondary school pupils about the risks associated with problem gambling.
Donald Morrison, spokesman for the Association of British Bookmakers in Scotland, said: "Problem gambling in Scotland is low but it is an issue we take extremely seriously.
"Projects like this help to raise awareness about the support networks that exist for people with problems.
"I would encourage anyone with concerns about gambling - regardless of where and how they gamble - to take advantage of the counselling support available, either in person or by calling the National Gambling Helpline."
He added: "We have had tremendous logistical support for this initiative from local community groups, particularly For the Right Reasons, and I am extremely grateful for the contribution they have made.
"This is the first project of its kind in Scotland and we hope we can roll out similar initiatives in neighbourhoods and communities across Scotland."