Figures show busiest coastguard helicopter rescue region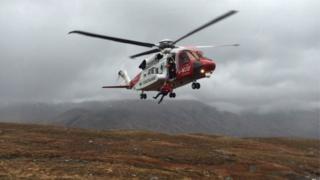 The Highlands and Islands was the busiest region in the UK for the coastguard's search and rescue helicopter service last year.
Official figures for the year up to March show there were 565 taskings in the area, which includes the Western Isles and Orkney and Shetland.
The next highest numbers were 526 taskings in South West England and 452 in Wales.
The figures have been released by the Department for Transport.
The Maritime and Coastguard Agency has search and rescue helicopter bases at Inverness, Sumburgh in Shetland, Stornoway on Lewis and Ayrshire's Prestwick airports.