Former Fort Augustus Abbey school priest guilty of assault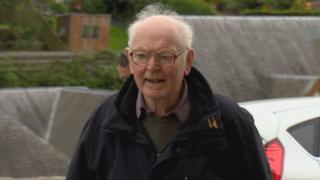 A former priest has been found guilty of assault to injury of a pupil at a former Catholic boarding school at Fort Augustus in the 1970s and 1980s.
The jury in Father Benedict Seed's trial found five other charges not proven by a majority.
The 83-year-old, who appeared at Inverness Sheriff Court under the name Thomas Michael Seed, belted Paul Curran on the wrists until he bled.
Seed, of Brora, denied all the charges against him. He has been fined £1,000.
Mr Curran, now a 50-year-old businessman living in Hong Kong, told the jury at Inverness Sheriff Court that he had dreams of being "hunted" by Seed for the five years he attended the now closed Fort Augustus Abbey school in the Highlands.
He said he was belted with a leather tawse which left his hands and wrists bleeding, swollen and bruised after being caught swearing.
Seed, was a housemaster before being promoted to headmaster at the school, told the court that "housemasters gave corporal punishment".
But he said caning was "very rare" and belting "pretty rare".