Bra gets tangled in Highland red deer stag's antlers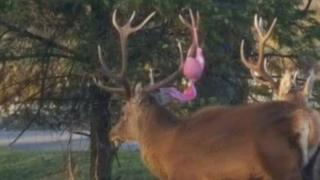 A red deer stag has been photographed in the Scottish Highlands with a bra tangled in its antlers.
The animal was spotted in Applecross in Wester Ross on the north west coast earlier this week.
Several red deer graze around houses in the village and the stag snagged the item of underwear while passing a washing line.
Megan MacInnes managed to get the snap of the deer with its colourful antler decoration.
Her friend Anne Macrae, who also lives in Applecross and has photographed the deer in the village, said the animals were not tame, but bold enough to come close to houses to feed.
She said the deer come down from a nearby hill, the Bealach, to forage.