Unusual clock restored to former glory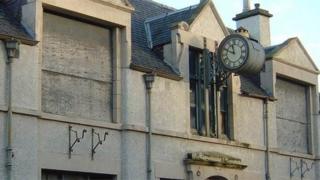 An unusual clock that has been a well-known feature in a part of Inverness since before World War Two has been restored to its former glory.
The drum clock was made in Victorian times from a copper barrel and later installed on Merkinch Welfare Hall in 1931.
The Inverness Common Good Fund owns the clock and paid for it to be restored to how it used to look in its heyday.
It is due to be refitted to the front wall of the hall.
Sprucing up the clock, which is working, forms part of a wider project led by community group Merkinch Enterprise to renovate the historic hall.
Terry Ellison, pf Merkinch Enterprise, said the restoration of the building's timepiece was like a St Valentine's Day gift to the local community.