Ice pancakes pictured on Thurso River at Halkirk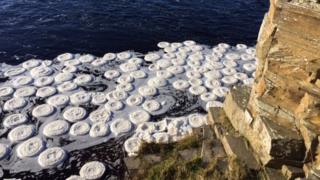 Pancake ice has been photographed on a river in Caithness.
Also known as ice pancakes, the phenomenon can be found in rivers and in the open sea.
They form when foam floating on a river freezes. These frozen chunks are then shaped by being rubbed against one another in eddies of water.
James Donaldson photographed the pancake ice on the River Thurso at Halkirk at the weekend during a trip to Caithness from Aberdeen.
Ice pancakes have previously been spotted on other Scottish rivers, including the River Dee in Aberdeenshire.