Temporary traffic lights to be installed at Slochd Summit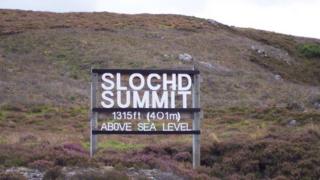 Temporary traffic lights are to be installed at the Slochd Summit to allow for engineering works near a section of the A9 south of Inverness.
The Slochd Summit is one of the highest points on the trunk road at 401m (1,315ft) above sea level.
The road at the Slochd is one of 12 sections of the A9 being upgraded from single to dual carriageway between Inverness and Perth.
Sevens weeks of ground investigations are due to start on Monday 13 February.
Transport Scotland said traffic management measures would be in place to allow work beside the carriageway to be carried out safely.
The measures will include short, alternate single file traffic sections controlled by temporary traffic signals.
A Transport Scotland said: "This ground investigation is needed to get vital information on the existing ground conditions in the vicinity of the A9 carriageway between Dalraddy and Slochd as we progress our plans to dual the road.
"This is the latest in a series of ground investigations taking place along the route.
"We apologise for any inconvenience these works will cause and would thank road users and local communities in advance for their patience over the next few weeks."
Transport Scotland's A9 dualling project is to be completed in 2025 at a cost of £3bn.