Bonfire and ceilidh mark buyout of Cold War site on Lewis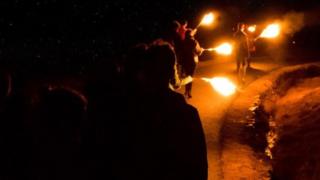 A ceilidh, celebratory bonfire and torchlight procession have been held to mark a year since a community buyout of a Cold War surveillance station.
The radio and radar station were set up at Aird Uig, Gallan Head on Lewis, 60 years ago.
The site was part of Nato's early-warning system against Soviet submarines and aircraft.
Gallan Head Community Trust bought the site from the Ministry of Defence with help from grant funding.
It is working on turning parts of the site into a space observatory.
A marine research centre is also planned at what is to be called The Cetus Observatory.
The celebrations were held on Saturday.