Apology for delay deciding on inquiry into fatal storm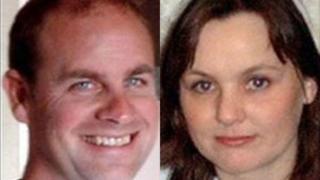 The Crown Office has apologised after it took more than 10 years to decide whether an inquiry be held into a fatal storm.
Archie and Murdina MacPherson, their children Andrew and Hannah and grandfather Calum Campbell all died during the storm in January 2005.
Their vehicles were swept off a coastal road in Iochdar, South Uist.
The Crown Office said a fatal accident inquiry (FAI) was given careful consideration.
In October last year, it announced an inquiry would not be held because it would not provide information about the cause of the deaths that had not already been addressed.
Relatives of the MacPhersons and Mr Campbell had called for an FAI to take place.
Lord Advocate James Wolffe QC, Scotland's most senior law officer, set out the key reason for the delay in deciding on the inquiry in a letter to Western Isles MP Angus MacNeil.
He said it was because officials waited for the completion of a scientific study of the South Ford causeway, which it has been claimed caused water to build up and resulted in the flooding of Iochdar area in 2005.
Mr Campbell, 67, and Mr MacPherson, 36, his 37-year-old wife along with Andrew, seven, and Hannah, five, were trying to escape from flooding and strong winds using a single-track coastal road in Iochdar to reach relatives and safety.
Published in 2012, the South Ford Hydrodynamic Study suggested that opening up South Ford and building a bridge across the gap would have eased flooding during the storm.
A spokesman for the Crown Office said: "We have offered our sincerest apologies to the Campbell and MacPherson families for the length of time it has taken to deal with this case.
"Crown Counsel, having given careful consideration to all relevant matters, including the recommendations of the South Ford Hydrodynamic Study and taking into account local feeling, have decided that there is no requirement to hold a fatal accident inquiry into the deaths.
"Crown Counsel are satisfied that the study has put all the available information in the public domain, including identifying factors for the flooding and recommendations to reduce the risk in the future, and that on that basis there is no requirement to hold a fatal accident inquiry."
The spokesman added: "These tragic deaths occurred before the Crown Office set up its Specialist Fatalities Investigation Unit and it is clear that both the time taken to reach the decision and the level of explanation offered during the process fell short of the standard we now work to.
"Further steps have been taken to ensure that a similar situation will not happen in the future with the Lord Advocate setting out to parliament our commitments in the Family Liaison Charter."