Bone Caves search for lost spaniel Nancy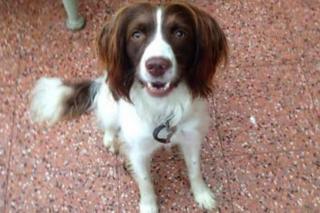 Searches are being made in around Assynt's Bone Caves for a dog that went missing in the area.
The owners of the spaniel, Nancy, have been looking for her with help from others since she ran off on 4 January.
Owner Ron Faulkner, who has been holidaying near the Bone Caves with his family from the Edinburgh area, said there have been sightings of her.
She was seen in a glen between the caves and Inchnadamph and barking may have been heard from the caves.
Nancy ran off with another dog, which was found shortly afterwards.
Mr Faulkner said: "We went back to the caves, but have not heard barking.
"She was spotted in a glen so our hope is that she has not fallen down a hole and is still running around nearby."
Mr Faulkner, who has appealed for further sightings of three-year-old Nancy, and others are making fresh searches of the area near the caves on Thursday.
The Bone Caves are popular with hillwalkers and also scientists because of the discoveries made at the site in the past of prehistoric remains of animals, including bears, and humans.