Police probe after Skye dinosaur footprints are damaged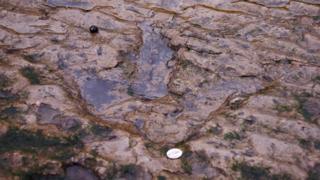 Police have launched an investigation after plaster was poured into two dinosaur footprints on a Skye beach.
Officers believe a man driving a campervan may be responsible for damaging the prints at Staffin on Wednesday.
Palaeontologists estimate the prints at An Corran date back 165 million years.
In a series of tweets, local police officers appealed for help from people who were in the area.
Lochaber and Skye police said: "Unfortunately we can confirm we are investigating reported damage to the dinosaur footprints at Staffin yesterday. Were you in the area?
"It would appear a male driving a campervan was possibly responsible for pouring plaster into two of the prints. Any info please call 101."
The prints at Staffin are believed to have been left by a family Ornithopods, herbivorous creatures which walked on two legs.