Thurso lifeboat goes to aid of surfer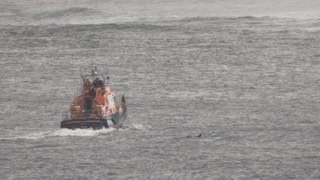 A lifeboat crew went to the aid of a surfer after he got into difficulty returning to shore while surfing off Thurso on Thursday.
The surfer had lost his board and swam out further than usual in an area popular with surfers.
Thurso lifeboat crew picked him up after he seeing that he was struggling to swim back to shore with his board in a heavy swell and wintry conditions.
He was checked over by an ambulance crew at Scrabster Harbour.