Archaeologists challenge Lochaber's Banquo's Walk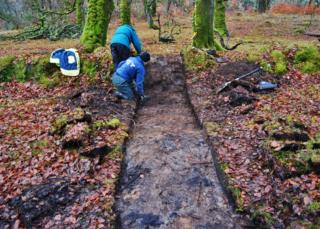 Archaeologists have challenged a long-held claim that a picturesque tree-lined avenue near Fort William was a ceremonial route to a clan stronghold.
The avenue running through woodland near Fort William is known as Banquo's Walk.
Banquo is a semi-historical figure who famously appears as a character in Shakespeare's Macbeth.
Archaeologists have found that Banquo's Walk near Tor Castle was likely formed by clay mining in the 19th Century.
In Shakespeare's play, Banquo, the Thane of Lochaber, is an ally of Macbeth who is murdered on the instructions of his friend.
Ordnance Survey Name Book accounts from 1872 first refer to the area as Banquo's Walk.
It is recorded as forming part of a road alignment leading to the ruins at Tor Castle, a site once occupied by Clan Macintosh and Clan Cameron. The clans chiefs named Banquo as an ancestor.
For almost 150 years, Banquo's Walk was believed to be a monumental road leading to the castle site.
In November this year, a survey and other research was carried out by Lochaber Archaeological Society in conjunction with staff from AOC Archaeology's Inverness office.
They found that, in contrast to other old roads, Banquo's Walk consisted of an "inconsistently low-lying, inexplicably wide surface" defined by banks on both sides - "leading from nowhere and terminating abruptly".
There was no logical explanation for its use as a road, much less a ceremonial route, the archaeologists said.
Excavations of Banquo's Walk revealed further insights.
Society member Clive Talbot said: "Our excavation revealed indeed that there was no road surface present over the defined area of Banquo's Walk - it was in fact the location of a natural clay layer that was clearly present out with the banks, but was largely missing from within the bank.
"Looking at the surviving natural layers and after further excavation through the banks, we realised that the surface of Banquo's Walk had been lowered by the removal these natural deposits and the banks had been built with the upcast."
AOC Archaeology's Mary Peteranna, who led the research work. said: "Evaluation of the natural soil strata, which contained a thick natural band of clay, revealed that the best possible explanation for the construction of Banquo's Walk was for clay extraction.
"We can tell from historical mapping that this took place before the mid 19th Century, and its location happens to coincide with an early road in use before construction of the Caledonian Canal in the early 1800s.
"It is very possible that the clay was mined here for canal construction, and we know that 'puddling' or using clay to line the canals was one possible use. But one thing is certain and that is Banquo's Walk was not a ceremonial or processional route to Tor Castle."