Mild weather keeps Castle Stuart green keepers busy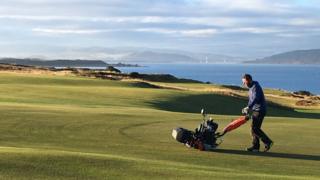 Green keepers at a Scottish golf course expect to be cutting grass until Christmas because of mild winter weather.
The last cut at Castle Stuart on the Moray Firth coast near Inverness is usually carried out in late November.
Keepers at the Scottish Open course said they had experienced colder winter weather with temperatures dropping as low as -6C.
However, the following day the temperature rose to 14C.
Chris Haspell, course manager, said: "Some days we have had frost on the ground, but then warmer conditions which means the grass is still growing.
"Normally the last cut of the year is done by late November, but this year we will still be cutting greens right up to Christmas for only the second time since the course opened in 2009."