Illicit still site in Glen Affric designated a monument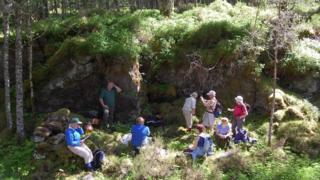 A site where whisky was made illegally in the late 18th and early 19th centuries has been recognised as a monument of national importance.
The site of the illicit still near Badger Falls in Glen Affric in the Highlands was found by Forest Enterprise Scotland staff in 2008.
The footings of the small building housing the still survive today.
The site has now been formally designated a monument by Historic Environment Scotland.
The still would have set up inside the small building, which was hidden from view by an overhanging rock face and was next to a small burn.
The building's footings - part of the foundations - survived in woodland in a secluded gully above the River Affric.
Illicit stills were a response to the Excise Act of 1788, which banned the use of small household stills.
Illegal distilling declined following the passing of the Excise Act of 1823.
Giles Brockman, of Forestry Enterprise Scotland's Inverness, Ross and Skye team, said the Glen Affric site may appeal to some visitors.
He said: "It's not an easy site to visit - probably only really accessible to the more adventurous visitor - but we are very pleased to see it awarded Scheduled Monument status."
Mr Brockman added: "It is an evocative reminder of a once widespread Highland practice, when illegally producing whisky and defrauding the tax man weren't seen as criminal activity but as a social enterprise - at least by the general population."