Kinlochleven site to hold first major contest since blaze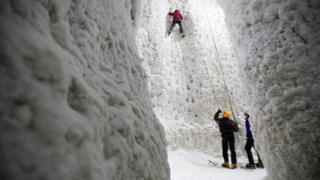 The world's largest indoor ice-climbing facility is preparing to hold its first major competition since reopening to the public after a fire.
Ice Factor Kinlochleven was shut in July last year when an accidental fire broke out in its sauna.
Nobody was hurt in the incident and the structure of the 120-year-old former Victorian smelter survived. It reopened in May this year after repairs.
The Scottish Mixed Masters will be held at the site on Saturday.
The competition is the final round of the British Tooling Series and will involve up to 60 climbers.
The series requires competitors to climb as fast as possible with ice axes up routes which feature problems which must be overcome using techniques that simulate winter climbing on rock and ice.
The repairs to the ice-climbing centre following the fire involved melting and removing walls of ice and cleaning thousands of individual handholds.