Man jailed for attacking Fort William couple with chainsaw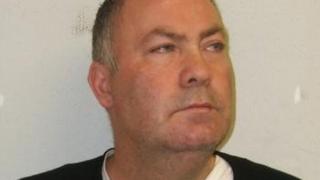 A man has been been jailed for 12 years for an attack on a couple in their home with a chainsaw.
James MacDonald, 48, of Fort William, turned up at John and Flora MacPherson's home, threatening to kill their daughter Tracey.
MacDonald, who was earlier seen with the chainsaw under his seat in a pub, had been in a relationship with her.
Mr MacPherson, 74, almost lost an arm while defending his 63-year-old wife during the attack.
MacDonald was jailed at the High Court in Edinburgh.
Details of the attack, on 19 July this year, emerged last month at the High Court in Glasgow as MacDonald pleaded guilty to attempting to murder Mr MacPherson.
The court heard surgeons saved Mr MacPherson's arm.
MacDonald also admitted assaulting Mrs MacPherson, to her severe injury, permanent disfigurement and impairment as well to the danger of her life.
'Truly horrific'
The court heard that after bursting into the couple's home in Fort William, MacDonald stood in their living room revving the chainsaw.
He then turned it on Mrs MacPherson, and then her husband as he tried to protect his wife.
MacDonald later fled from the house.
Passing sentence at the High Court in Edinburgh, judge Lord Boyd said: "This was a cruel and cowardly attack on an elderly couple who had done you no harm but had the misfortune of being the parents of the women who had recently been your partner.
"The injuries that you caused were truly horrific.
"In Mr MacPherson's case, it was only by the skill of the medical teams at Belford Hospital and Glasgow Royal Infirmary that he survived.
"I note that he had to undergo a nine-hour operation to reattach his right arm.
"The consequences, both physical and psychological, will be with both of Mr and Mrs MacPherson for the rest of their lives."
Det Ch Insp Michael Sutherland, of Police Scotland, said the MacPhersons "suffered a terrifying, violent ordeal within their own home".
He said: "The mental and physical harm caused by MacDonald's actions will have a lasting impact on his victims, who are to be commended for their bravery throughout the investigation and court proceedings."
"Acts of such violence are fortunately rare in the Highlands and are understandably distressing for the entire community."