Scottish avalanche information season to begin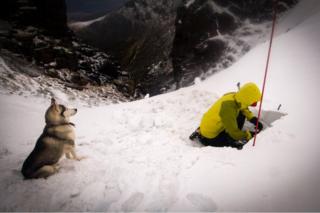 Daily avalanche information reports for six mountainous areas of Scotland are due to be issued from Friday.
Every winter, the Scottish Avalanche Information Service (SAIS) assesses avalanche hazards in Lochaber, Glen Coe and Creag Meagaidh.
The service also covers Southern Cairngorms, Northern Cairngorms and Torridon.
It provides information on the stability of snowpack on the mountains from December until mid-April.
Hillwalkers and climbers use the SAIS' reports alongside mountain weather forecasts when planning trips into Scotland's hills.
Triggered by people
Last winter, a total of 109 people were involved in avalanche incidents as members of a group of walkers or climbers, according to SAIS.
Three people died following avalanches that occurred in a 10-day period in February.
SAIS added that two other fatalities during the winter of 2015/16 may also have involved avalanche activity.
The service recorded 205 avalanches between December 2015 and April.
Of that total, SAIS said 159 were released naturally and 46 were incidents triggered by people.
Some of the avalanche occurrences were minor, but others were "more significant" and resulted in people being carried down by the snow, the service said.
A total of 21 people were carried down by an avalanche, it said.
In the winter of 2013/14, the service documented one of its highest numbers of avalanches with 350 snow slides detected during one of the snowiest winters in Scotland's mountains in almost 70 years.