Western Isles 'betrayed' by wind farm subsidy delay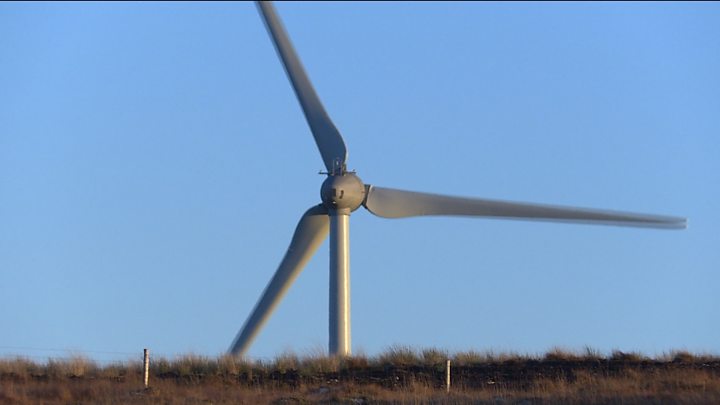 Political leaders in the Western Isles have accused the UK government of a "betrayal" over plans to curb subsidies for new wind farms.
Two major schemes, which already have planning consent, are expected to result in a £1bn investment in Lewis.
But last month the developments were frozen out of the latest round of subsidies for renewable energy.
The UK government said it was committed to renewable energy with £13bn invested in UK projects last year.
Wind projects in Orkney and Shetland have also been put on hold.
The Conservatives made a manifesto commitment in the 2015 general election to end subsidies for onshore wind.
Ministers last month announced a consultation on creating a separate criteria for island onshore wind.
Energy firms argue that without the subsidies, it would be too expensive to lay a sub-sea cable to bring the electricity from the islands to consumers on the mainland.
Angus Campbell, leader of Western Isles Council, told BBC Scotland: "In the past we couldn't get connected because we weren't regarded as onshore wind. We argued for a separate case for the islands.
"We are now being told we might be treated as onshore wind and because [subsidies for] that have stopped, we would be the first to suffer," he said.
"Morally, I do believe that's wrong."
EDF energy is ready to go with plans for its 36-turbine project on moorland south of Stornoway.
It would create a community fund which would be spent in Lewis.
A handful of turbines on the site already feed into the grid but the existing cable to the mainland - called an interconnector - is at full capacity.
A new one - carrying 600MW - will only be built if firms like EDF are able to get subsidies from the government.
EDF's Onshore Operations Manager, Don MacKay, said: "The connection for the island here is not dissimilar to the kind of connection you would have for an offshore site and these are significant investments and significant infrastructure projects that allow these to be connected into the national grid.
"That's what makes the cost difference and that's why it really does need a support mechanism to make them viable."
For the small population of North Tolsta, a 14-turbine site would create a financial windfall.
Rental of the common grazing land and the community benefit fund will generate an annual income of more than half a million pounds.
Murdo MacIver, of North Tolsta Grazings, said: "This would make a big difference to the lifestyle of Tolsta.
"It went through the planning process, community consultation and there was one objection and that was outwith the area.
"Everybody was in favour."
The consultation on island onshore wind was announced on the morning that Donald Trump was confirmed as US president-elect.
Interested parties have until the end of January to make representations for the islands to be treated as a special case for subsidies.
Michael Rieley, senior policy manager at Scottish Renewables, said: "Scotland's remote islands are home to the best wind resource in the UK and among the best in Europe.
"Developers and island communities were bitterly disappointed to hear that, despite years of work on the issue and many ministerial pledges to resolve it, we still seem no further forward to unlocking their renewable energy potential."
'Completely wrong'
Paul Wheelhouse, the minister for business, innovation and energy at Holyrood, told BBC Radio's Good Morning Scotland programme that the UK government had misled both Scottish ministers and locals on the issue.
He said: "The Scottish government repeatedly sought assurances from the UK government about their plans to support these key renewable energy projects, which will have a huge positive economic impact for the islands through the 'contracts for difference option' process and the UK government have effectively misled both Scottish ministers and indeed the communities that are affected by this.
"The truth is that the UK government has set out a position where they refuse to give any more subsidy to onshore wind projects, but by their own consultation in September 2013 they concluded that, and I quote here 'this was a separate class of renewable generation and warrants special treatment and potentially different levels of support from other onshore wind projects'."
He added: "This is an example of the UK government having a massive 'volte-face' to the great detriment of the island authorities, the areas and their communities and a refusal to accept really that they are completely wrong in this."
A UK government spokesperson said: "We are fully committed to providing secure, affordable and clean energy for the UK's homes and businesses.
"The renewables industry has been a strong success in Scotland thanks to UK Government support.
"Last year a record £13bn was invested in renewables across the UK, with Scotland continuing to benefit significantly from that support."