HIE responds to Tavish Scott's comment on chairman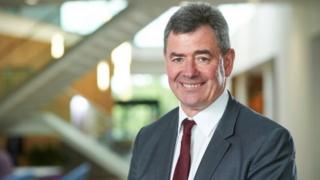 Highlands and Islands Enterprise says it would "not be appropriate" for its chairman or other board members to join "a public debate" on the body.
MSP Tavish Scott has said HIE's chairman is not allowed to speak out on the Scottish government Enterprise and Skills Review.
The review has recommended that HIE and Scotland's other enterprise agencies be co-ordinated by a single board.
Prof Lorne Crerar has said publically HIE's work will not be "diminished".
On Wednesday, at a meeting of Holyrood's education and skills committee, Mr Scott said Prof Lorne Crerar had told MSPs that he was not allowed to speak out on the review, the first phase of which included an examination of HIE.
The Shetland MSP asked Economy Secretary Keith Brown if this was the case.
Mr Brown said he could not comment on private conversations.
'Government's guidance'
In a statement released following the committee meeting, HIE said: "The Scottish government's Enterprise and Skills Review has understandably generated a great deal of comment and debate across the Highlands and Islands in particular.
"With phase two of the review now getting under way, HIE is continuing to engage actively with government officials and ministers, as the people of the region would expect.
"As Professor Crerar has already said, our aim is to ensure that when the review concludes, HIE is not diminished, and hopefully enhanced, and that the important features of our governance are replicated in future arrangements.
"The majority of board members of public bodies in Scotland are ministerial appointees, and the government's guidance makes it clear that people appointed to these roles agree to implement ministerial priorities.
"That is why, although HIE is fully engaged in the review process, it is not appropriate for the HIE chairman or other board members to participate in public debate on specific policy matters."