Mobile cinema Screen Machine to be given refit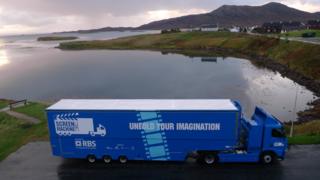 The UK's only full-time self-contained mobile cinema is to be given a refit.
The Screen Machine is operated by Regional Screen Scotland and brings a cinema experience to communities across north and west Scotland.
The service was originally started in 1998 and the current vehicle has been in use since 2005.
It is in operation for up to 48 weeks a year and visits communities such as Bettyhill in Sutherland and others in the Western and Northern Isles.
The refit, which will include the replacement of worn parts and a repaint of the exterior, will be carried out by the Screen Machine's original builders, French-based Toutenkamion.