Millions to be invested in Hebrides weapons range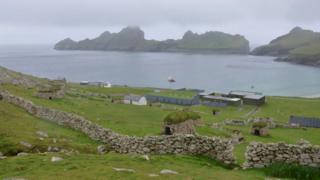 Millions of pounds are to be spent modernising a weapons testing site on the Western Isles.
MoD Hebrides is used for testing and training on missile systems and includes sites on South Uist and Hirta in the St Kilda archipelago.
Ministry of Defence (MoD) contractor QinetiQ is invest in the modernisation of the facilities.
QinetiQ has announced £180m is to be spent across MoD Hebrides, plus a site in Wales and another in England.
The two other sites are MoD Aberporth and MoD Boscombe Down.
The Western Isles facility was set up in the 1950s and involves one of the largest military air ranges in Europe.
It is used for weapons systems such as Rapier, and in October this year played a part in the Royal Navy's inaugural "robot wars" exercise, Unmanned Warrior.
In recent years, there have been concerns that the range was to be closed with the loss of dozens of jobs.
The Western Isles' MSP Alasdair Allan and MP Angus MacNeil have welcomed the latest announcement, which they said secures the future of the site and its jobs until 2028.
Last islanders
Earlier this year, it was announced new military facilities are to be built on Hirta to serve the range.
The MoD has had a tracking station on the isle since 1957.
The National Trust for Scotland, which manages St Kilda along with the MoD, has said the planned new buildings were "sympathetic and sustainable".
St Kilda lies about 40 miles (64km) west of North Uist, the nearest inhabited place to the archipelago.
The last islanders left St Kilda in 1930 and people only now live on Hirta on a temporary basis to work at the military site, or on wildlife conservation projects.