Inverness pupils trump rivals in schools Gaelic Trump debate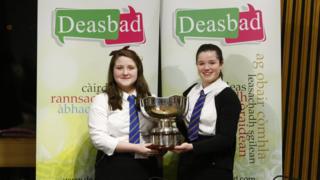 Two pupils from Inverness Royal Academy have won the 2016 National Schools Gaelic Debate competition.
Eilidh MacPhee and Alix Aburn beat Glasgow Gaelic School's team of Siobhan Brady and Eilidh Miller in the final.
The debate was on the topic that US president-elect Donald Trump is "exactly what the world needs at this time".
The Inverness team argued on the side of the statement in Wednesday night's final at the Scottish Parliament.
Eilidh MacPhee also won the contest's best speaker award.
'Massive achievement'
Organisers and judges - Matthew MacIver, Christina Walker and Angus MacDonald - have praised the debating skills of the Inverness and Glasgow teams.
The organisers said: "The debate featured excellent research, humour aplenty with fantastic debating skills on display."
Trump's mother, Mary MacLeod, was born on Lewis in the Western Isles, where Gaelic is widely spoken.
Hamish Fraser, chairman of Highland Council's Gaelic implementation group, said: "This is a massive achievement for the pupils especially as the standard to debate was exceedingly high.
"National events of this calibre allow and provide the opportunity for young people who learn and study Gaelic to showcase and excel both their linguistic and debating skills.
"I believe that these young people will be confident decision-making citizens of the future."
Mr Fraser added: "I would also like to take this opportunity to congratulate the Lochaber High School team for also doing so well in reaching the semi-finals."