New teacher finds her island paradise on Muck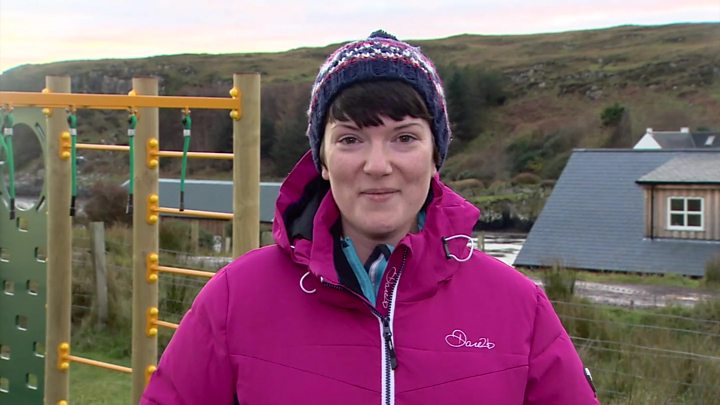 A woman who responded to a social media campaign for a new teacher on a remote Hebridean island with a population of 30 has said she loves her new life.
Laura Marriner was one of hundreds of people from across the world who responded to the Facebook post from Highland Council for a teacher for Muck Primary School.
She left a job with Hampshire County Council and moved with her husband and two young sons to take up her new role teaching the school's eight pupils and one nursery charge in November.
According to Highland Council, there were an unprecedented 58 applications for the job and hundreds more inquiries from places such as North America, Italy and the Philippines.
Mrs Marriner, who is originally from north Wales, said she responded after being tipped off by her father who saw the appeal featured on the BBC.
'Something brave'
She said: "My dad pointed it out while I was staying with him on holiday; They just looked like such lovely children and I thought 'oh I could do that'.
"I was really inspired by the idea of something completely different, about having an adventure that the whole family could enjoy and just doing something brave."
Located south of the Isle of Skye and measuring just 2.6km (1.6 miles) east to west, Muck can be a wet and windswept place in winter.
The island has no church, shop or even a postbox. With a population of about 30, a single road links a farm to the main settlement near the harbour at Port Mor.
Chairman of the parent council Mark Johnson said it was really important to chose someone for the job who would fit in with the community.
He added: "There was a lot of idealistic interest. We got hundred and hundreds of people who were interested and then some really solid interest.
"There were a lot of people who thought 'oh it looks lovely' and looking just for a complete career change or complete change of lifestyle and that really attracted people I think."
'A bit bonkers'
The job as teacher also came with a three-bedroom flat situated over the school house, offering views across the sea to Ardnamurchan Point.
Mrs Marriner said she and her family were now adjusting to life on the island.
She said: "It's very different. We're used to having convenience on our doorstep and not having to wait for anything, so in terms of prioritising what's important, that's different. But we've done really well with it so far and we're enjoying it.
"The last place that we lived, we were two-minutes walk from the train station, 10-minutes walk to a town that had coffee shops and places to visit and libraries.
"It's different in the sense that everything is really close here. We live upstairs and I just have to go downstairs to go to school instead of having to do a commute."
Mrs Marriner, who is known to the children at her new school as Mrs 'M', said her decision had caught the imagination of many people.
She said: "A couple of people think we're a bit bonkers but everyone has been really positive about us coming here.
"There's been very much a feeling of 'if anyone can do it, we can' which is lovely and people are really excited about coming to visit us on holiday.
"It has been a brave decision I think. It's not something that we've done before and I'm quite proud of us as a family for taking the plunge and deciding to do something a bit different and out of the ordinary.
"I think the positives that we've gained from doing something like this, especially the boys and the amount of freedom that they have, the lifestyle that they can lead here is totally worth it.
"I love it. I'm so happy here. I keep waiting for the day when I don't feel like that anymore.
"But even on the days when we've had really difficult experiences, behind that has still been this complete joy at what we're doing and being here. It's just wonderful."