CalMac ferry to 'switch on' Ullapool's Christmas lights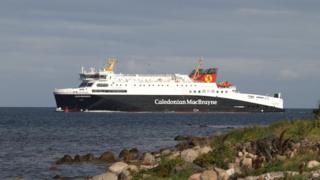 A Caledonian MacBrayne ferry is to "switch on" Ullapool's Christmas lights.
The MV Loch Seaforth's horn will be sounded as it leaves the village at 17:30 on Thursday, signalling the turning on of the lights.
Ullapool has not had a community Christmas lights display before.
The village's display has been organised by community group Ullapool Fire and Light Fund and will feature a Christmas tree created from creels.
Thursday's switch-on will also include lights appearing on yachts, dinghies and fishing boats in Ullapool harbour. The display has been funded by a grant and donations.
The creel tree stands about 16ft tall and has been constructed almost entirely of creels normally used for catching prawns or crabs.
A real Christmas tree has also been put up at the harbour's entrance.
The Loch Seaforth carries passengers between Ullapool and Stornoway on Lewis.
The ship's master John Gillies said: "We're more than delighted to be asked to be part of Ullapool's special lights switch on.
"We really feel part of Ullapool community - everyone was so supportive when we brought the Seaforth into service and have continued to play an important part - and we were absolutely honoured to be asked."