Scotland's dune grasslands, machair, mapped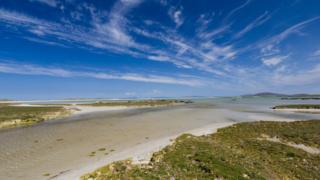 Scotland's coastal meadows, called machair, have been mapped by scientists.
The shell-rich dune grasslands are found on the Hebrides and parts of Orkney, Shetland and the north west Highland coast.
The map has been made for Scottish Natural Heritage's Habitat Map of Scotland project.
Machair provides important habitats for seabirds and grazing for crofters' livestock.
Scotland has a total of about 32,123 acres (13,000 ha) of machair.
Some of the largest areas of the coastal meadows are found on Coll, Tiree and Harris.