Dornoch Bridge on A9 to be closed overnight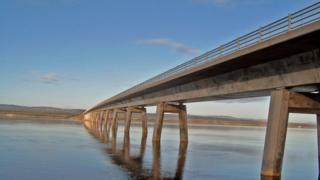 The A9's Dornoch Bridge is to be closed overnight on eight occasions to allow for £190,000-worth of improvements to be made to the structure.
The crossing near Tain will shut between 21:00 and 06:00 from 5 December to 13 December.
Transport Scotland said a diversion will be signposted, but added that the emergency services would still be able to use the bridge.
Bear Scotland is to refurbish the crossing's expansion joints.
Transport Scotland said the "essential maintenance works" were scheduled to start on 5 December.
The diversion involves taking traffic via the A936, Bonar Bridge and the A949. Pedestrians and cyclists are to be offered an escort through the site when it is safe to do so.