Plans submitted for new Inverness Justice Centre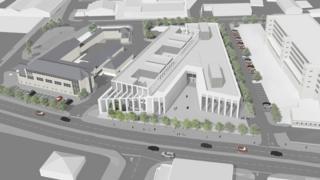 Plans have been submitted to Highland Council for the new Inverness Justice Centre.
The building is to be developed on a site between Longman Road and Burnett Road to the north of Burnett Road Police Station.
The new centre would allow the courts service to move out of historic Inverness Castle.
The Scottish government is to fund the construction of the new two-storey Inverness Justice Centre.
The Scottish Courts and Tribunals Service has proposed that the centre has six courtrooms.
It would also have facilities available for supporting and advising victims and witnesses of domestic abuse, sexual violence and provide "an environment for problem solving approaches" to help reduce re-offending and child abuse.
Justice Secretary Michael Matheson has said the centre would be an important development for the city and the wider Highlands area.