Rise in Scottish mountain rescue team callouts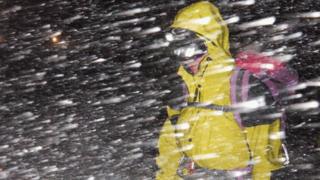 Mountain rescue teams in Scotland were called out to more incidents in 2015 than in the previous year.
Scottish Mountain Rescue (SMR), an organisation representing 23 civilian volunteer teams in Scotland, has reported 579 incidents last year.
In 2014, rescue teams were asked to assist at 533 incidents.
In some incidents, teams with worked the Search and Rescue Dog Association, Scottish Cave Rescue, police, Coastguard and RAF.
The call outs included four involving Cairngorm MRT in the first two weeks of 2015.
Weather conditions during the incidents were described as "classic white hell" with blizzards, 100mph winds and lightning, SMR said.
Also in January, members of Braemar MRT, which on occasions supported the Cairngorm team on call outs, rescued a six-month-old puppy called Kira after it fell down a gully at Loch Muick.
Severe flooding
Lomond MRT had a busy spell in March when its members were called to incidents on Ben Lomond three times in the space of four days.
In August, Galloway MRT helped in the rescue of six holidaymakers after they got into difficulty in the Galloway hills.
Later, in December, Borders Search and Rescue Unit assisted in rescue efforts during severe flooding in in Peebles, Melrose and Hawick.
Following the publication of the report, Dundonnell MRT, which covers a large area of northern mainland Scotland, said it was involved in an above average number of call outs in 2015.
The 34 incidents on its patch included eight in June, its busiest month of last year.
The team was also involved in a search for one of its own members, Alexander Brett, an experienced climber and hill runner. Mr Brett's body was found in Torridon where he had gone for a run.