Man almost lost arm in chainsaw attack in Fort William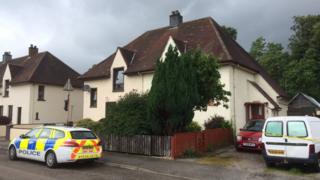 A 74-year-old man almost lost an arm while defending his wife when the couple were attacked in their home by a man with a chainsaw, a court has heard.
James MacDonald, 48, of Fort William, turned up at John and Flora MacPherson's home threatening to kill their daughter, Tracey.
MacDonald, who was earlier seen with the chainsaw under his seat in a pub, had been in a relationship with her.
The judge deferred sentencing for reports until 13 December.
Details of the attack, on 19 July this year, emerged as MacDonald pleaded guilty to attempting to murder Mr MacPherson.
The High Court in Glasgow heard surgeons saved Mr MacPherson's arm.
MacDonald also admitted to assaulting Mrs MacPherson, 63, to her severe injury, permanent disfigurement and impairment as well to the danger of her life.
Loved one another
The court heard that after bursting into the couple's home in Fort William, MacDonald stood in their living room revving the chainsaw.
He then turned it on Mrs MacPherson, and then her husband as he tried to protect his wife.
MacDonald later fled from the house.
Judge Lord Boyd heard how the couple told each other they loved one another as they feared Mr MacPherson was going to die.
Surgeons carried out a nine-hour operation to save his right arm.
MacDonald had been seeing Tracey MacPherson for more than two years before she left him in July.
She moved back in with her parents but MacDonald hounded her, the court heard.
Prosecutor Ross Macfarlane QC told the High Court in Glasgow: "He stated to her that he had 'put in' the door of her flat with a power saw.
"He told her repeatedly that he was going to kill her."
'Complete tragedy'
She was so scared she asked her parents to lock all the doors at their home.
On the day of attack, MacDonald was spotted with a chainsaw under his seat at a bar in Caol, near Fort William.
He later left and, at about 20:00, entered the MacPhersons' home using a back door. Their daughter was in an upstairs bedroom.
Mrs MacPherson, who alerted the emergency services in a 999 call, told MacDonald that her daughter was not at home.
Prosecutor Mr Macfarlane said: "They told each other that they loved one another.
"John MacPherson said that he was going to die and to tell his children that he loved them. He also started to pray."
Graham Robertson, defending, said the case for everyone involved was an "absolute and complete tragedy".
Lord Boyd deferred sentencing for reports until 13 December at the High Court in Edinburgh.