Homes sought for 35 guinea pigs abandoned in Highlands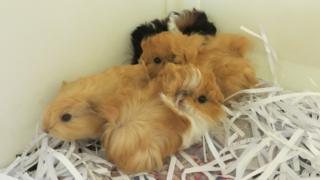 An animal welfare charity is seeking to re-home 35 guinea pigs abandoned, or given up by their owners, in the Highlands.
The pets are being cared for at the Scottish SPCA's Inshes centre in Inverness.
Most of the guinea pigs are only a few weeks old.
Centre Manager Elaine Floyd said, "We have lots of lovely little guinea pigs in our care at the moment and we're keen to find them fantastic new homes."
She added: "Ideally we'd like our guinea pigs to be re-homed in small same-sex groups or pairs as they are sociable creatures who enjoy the company of their own kind.
"Some of our guinea pigs are confident and easy to handle, while we have others who are in need of more human interaction to help them feel more comfortable."