Rescuers find walkers in blizzards on Ben Macdui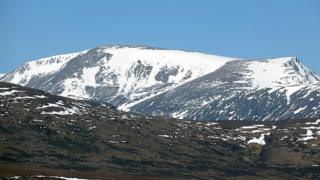 Cairngorm Mountain Rescue Team has escorted two hillwalkers to safety after they got lost in "full-on blizzard conditions" on Britain's second highest mountain.
Rescuers were called out to Ben Macdui amid heavy snowfalls on the tops of the Cairngorm mountains.
Team leader Willie Anderson described conditions as "ferocious".
The team was later called out to two overdue climbers on Cairn Toul but they managed to find their own way back.
A spokesman for Cairngorm MRT said a man and a woman were involved in the first incident.
Twenty-six members of the team located the pair in gale-force wind and blizzard conditions after being alerted at 14:15.
Almost immediately after finding them, the team was asked to look for the two men overdue from an ascent of the remote Angels Ridge on Cairn Toul, also in the Cairngorms.
'Full-on blizzard'
Those two walkers later turned up safe and well after getting themselves off the hill.
After calm weather in October, "severe" winter conditions have now been affecting Scotland's highest mountains, the team said.
Mr Anderson, who led the party, described conditions as "ferocious" and a "shock to the system".
He said: "Winter has certainly arrived today and the change from a balmy autumn is beyond dramatic."
He said conditions on the top of the mountains were a "full-on blizzard".
Mr Anderson said he was very relieved to locate the couple who had descended in whiteout conditions and gathering darkness.
As the rescue team were returning to base, news came in of the second incident.
Mr Anderson said: "The team thought they were about to dry out and warm up. ... but I had to tell them it looked like we would be going even further afield in the worsening weather. I was delighted when the pair turned up safely."