Illegal pearl hunting kills mussels near Lochinver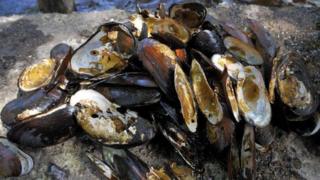 More than 100 freshwater pearl mussels have been found dead at a river south of Lochinver in the Highlands.
Police Scotland said the mussels had been taken from the river's bed and the shells opened to see if there was a pearl inside.
The 113 dead mussels were found during a survey for the protected species. It is believed the poaching occurred over the summer.
Survey leader Dr Peter Cosgrove said he was "appalled" by the discovery.
He added: "It is very disheartening and distressing to discover this type of wildlife crime when so many local people are trying to help conserve this important and protected species."
Daniel Sutherland, wildlife and environmental crime officer at Police Scotland, said: ''Scottish freshwater pearl mussels are a native species which are under serious threat of decline or worse extinction locally in the north of Scotland.
"These mussels are one of the wildlife crime policing priorities set out by government and police through the Partnership for Action against Wildlife Crime."
'Slow growing'
The shellfish play a part in healthy river ecosystems.
Iain Sime, of Scottish Natural Heritage (SNH), said: "Through their filter feeding pearl mussels can help maintain clear water and remove some impurities.
"But they also require high quality water themselves. As such, they are important indicators of the health of our wider environment.
"It is therefore really disappointing to see our survey reveal the death of so many pearl mussels.
"As pearl mussels are so slow growing and can live for more than a century it will take decades of undisturbed conditions for the population to recover."
Julius Caesar
SNH warned last year that pearl mussels may be extinct from several rivers in Scotland.
The results of a survey released at the time suggested 114 Scottish watercourses supported populations of one of the UK's rarest freshwater molluscs.
However, the shellfish were missing from 11 rivers where they were previously found.
Pearl mussels are similar in shape to common marine mussels, but can grow larger and live for up to 130 years in fast-flowing rivers.
Early in their lifecycle they live harmlessly on the gills of young salmon and trout.
Poaching, loss of habitat and pollution are among the reasons for dramatic declines in their numbers.
Scotland's Highlands and Islands are among Britain's last strongholds for the critically endangered species.
In history, Julius Caesar's admiration of pearl mussels is cited by his biographer as a motive for the first Roman invasion of Britain in 55BC.