Legal challenge after horse removed from Lewis house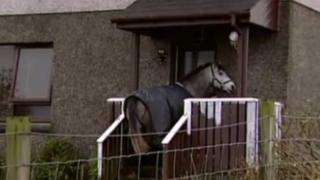 A woman has appeared in court to challenge a council's decision to remove a horse from her home.
Stephanie Noble moved her horse, Grey Lady Too, into her house in Lewis on Christmas Eve 2012 because she said there was nowhere suitable to keep it.
It was removed by Comhairle nan Eilean Siar (Western Isles Council) two years later on welfare grounds.
The court earlier decided the council had failed to complete the paperwork needed before taking action.
The horse is currently in the care of the council at a sanctuary in Uist.
It had been stabled at the house during winter months.
Under cross examination at Stornoway Sheriff Court, council animal welfare officer Kenny Macleod said the horse was in good health at the time of removal and was well cared for.
But he said there were dangers associated with keeping it in the house long term, such as rotting floorboards from urine and dangers with electricity.
Ms Noble's advocate, Stuart Buchanan, asked why, if that was the case, the council waited two years to act.
Mr Macleod said Mrs Noble had given the council assurances that she was seeking alternative arrangements so they had given her the benefit of the doubt.
The case continues.