Experts mystified by dead blue gull found in Inverness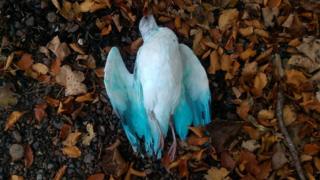 A blue-coloured gull has been found dead in Inverness.
Wildlife enthusiast David Lynch made the find on Sunday on a shore of the Beauly Firth close to Clachnaharry.
The RSPB believes it to be a common gull that has been dyed blue, adding it was unaware of any bird identification schemes involving dyeing.
The Scottish SPCA said it had not received any reports of a cruelty case involving a gull from Inverness.
After examining Mr Lynch's photographs, RSPB Scotland said: "We think it's a common gull.
"Not sure how it came to be that colour which looks like a dye, and unaware of any scheme involving dyeing so a bit of a mystery."