Former fabrication yard at Ardersier sold for £5m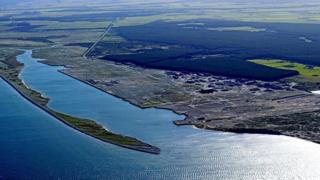 A former oil and gas industry fabrication yard at Ardersier near Inverness has been sold.
The site has been bought for just over £5m, according to a document from KPMG, the administrator for the former owner.
Port of Ardersier Ltd went into administration last year. The new owner has not been disclosed.
Before going into administration, Port of Ardersier Ltd secured full consent from the Scottish government to bring the site back into use.
The company had previously been given planning permission in principle from Highland Council to construct offshore wind farms at the site.
The work was expected to create up to 2,500 jobs.
The site at Whiteness Head on the Moray Firth, west of Nairn, is the former McDermott Yard which opened in the early 1970s for the fabrication and construction of offshore platforms for use in the North Sea gas and oil industry.
At its height, the yard employed about 4,500 people but it closed in 2001 as demand dropped.