'Sunniest October' for north of Scotland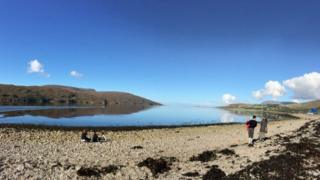 Early weather statistics suggest the north of Scotland has had the sunniest and one of the driest Octobers since records began, the Met Office has said.
This part of the country had 106 hours of sunshine, beating the previous record of 102 hours set in 1939.
Scotland as a whole will have had one of its "top five" sunniest Octobers on record with 93.7 hours, the Met Office said.
Scotland's sunniest October on record so far was in 2003 with 106.4 hours.
The early statistics cover from 1-27 October and the Met Office's records go back to 1929.
Forecasters said high pressure dominated much of the weather for the UK during October meaning many areas have been "notably dry", the exception being the east coast of Scotland, including Aberdeenshire, where rainfall was closer to normal.
The western side of Scotland had a third or less of its average October rainfall.