Worsening forecast for depopulation of Western Isles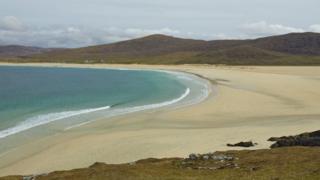 Projected population decline in the Western Isles is "more severe" than previously thought, the islands' local authority has said.
Comhairle nan Eilean Siar said calculations suggest a 13.7% decrease in population by the year 2039, rather than the previously predicted 11.3%.
The comhairle said this would involve a fall in the number of people from 27,250 in 2014 to 23,515 in 2039.
It is holding a seminar on the issue on 7 and 8 November.
According to the latest projections, a 28% decline in the 0-15 year age group has been predicted - the largest decline in Scotland.
Also, a 21% decline in the working age population, but an 11% increase in those of pensionable age.
'Biggest threat'
The local authority's leader Angus Campbell said: "These figures sadly confirm what the comhairle has been saying over the years.
"Population decline is the biggest threat facing our islands and action must be taken to stop and reverse the decline in numbers and the demographic imbalance."
He added: "The comhairle is doing everything in its power to make our islands an attractive place to live and work but we need more assistance from government at a UK and Scottish level to turn our aspirations into reality."
The comhairle announced plans in June to hold the population seminar.
Depopulation has been a long running issue for the Western Isles.
Nine years ago, research commissioned by the comharile suggested that more women than men were leaving the islands.
The Hebrides Migration Study also found that fewer women were moving to the islands.
The study said there had been long-term decline between 1901 and 2001, which was steepest in Harris, the Uists and Barra.
But it also gave a forecast that there would be more people by 2019 - but fewer schoolchildren, people of working age and women of child-bearing age.