Loch Ness cruise firm fined after crew member's leg is amputated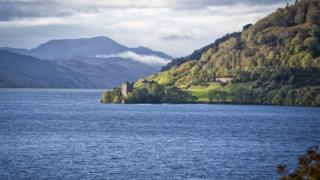 The owners and master of a Loch Ness cruise ship involved in an incident which led to a crew member losing a leg have been given fines totalling £8,000.
Aurelia Thabert was working on the Jacobite Queen when her right foot became entangled in a rope between the ship and the shore near Inverness.
Jacobite Cruises Limited and Andrew Lach admitted charges under health and safety and merchant shipping rules.
The company said it "deeply" regretted that the incident had occurred.
It happened on 20 June 2012 in Dochgarroch Locks while the Jacobite Queen was returning to its berth at Tomnahurich Bridge in Inverness.
Ms Thabert, who was 25 at the time, was working as a crew member onboard the ship.
She was attempting to release a rope from the side of the lock when her right foot became entangled in a bight of the rope.
The ship moved forward, tightening the rope around her leg.
Ms Thabert was treated at Raigmore Hospital in Inverness. Because of the damage to her leg, an amputation had to be carried out.
'Highest priority'
At Inverness Sheriff Court on Thursday, Mr Lach, 47, pleaded guilty to omitting to ensure all mooring ropes had been removed from the hooks at the side of Dochgarroch Locks before putting the engines ahead.
Jacobite Cruises Ltd pleaded guilty to failing to ensure the health, safety and welfare of its employee and failing to make sure there was an appropriate means of communication available between the master and crew while mooring ropes were being handled.
Jacobite Cruises was fined £6,000, reduced from £9,000 for a guilty plea. Mr Lach was fined £2,000, reduced from £3,000 for a guilty plea.
Freda Newton, managing director of Jacobite Cruises, said: "The health and safety of our team and customers is our highest priority.
"We continually review our procedures to ensure our crew are equipped to do their jobs safely and immediately after this incident we put a number of additional measures in place.
"We deeply regret that this incident occurred."
Capt Bill Bennett, area operations manager for the Maritime and Coastguard Agency, said: "Basic seamanship says that if the master doesn't have a clear line of sight to the aft mooring rope ashore, they should not attempt to put the engine ahead before getting the all-clear.
"The investigation clearly showed that although the company provided UHF handheld walkie-talkie radios aboard the vessel, these were not working on the day in question.
"This potentially impacted the ability of the master and crew to communicate clearly with one another."