Further fall in corncrake numbers in Scotland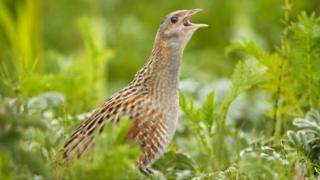 Numbers of one of Scotland's rarest breeding birds have fallen for the second year running, RSPB Scotland has said.
Corncrakes breed on islands including Lewis, Harris, Mull, Orkney and parts of the north west Highland coast and Argyll.
The birds are counted by listening for the call of males.
This year 1,059 were counted, while last year there were 1,069 and 1,289 in 2014 - the highest total in 45 years.
The greatest number of corncrakes this year were recorded on Tiree where 346 calling males were counted.
Corncrakes breed in Scotland during spring and summer before migrating back to Africa for winter.
'Major challenge'
RSPB Scotland said the birds are naturally short-lived and, if habitat conditions are "not good", they can quickly disappear from an area.
Because corncrakes rarely colonise new locations, once they are lost from an area, re-colonisation can be a "major challenge", the charity added.
However, despite recent declines, conservation efforts involving the RSPB, other wildlife groups along with farmers and crofters have raised numbers of the birds from a low of just 400 calling males in the 1990s.