Mother of two's risk of deportation over visa is lifted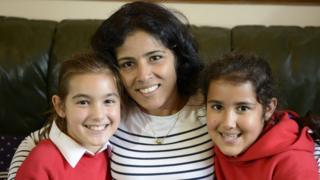 A mother of two who was at risk of being deported because of an issue with her visa has been granted leave to stay in the UK.
Gloria Macleod, who has an Indian passport and is married to a Scot currently working in Dubai, has been living in Dingwall since July.
The couple's young daughters attend a local school and the family hope to set up home in the area.
The Home Office had previously said she that she did not have the correct visa.
After hearing representations on her case, including from Ian Blackford, SNP MP for Ross, Skye and Lochaber, the Home Office said Mrs Macleod had been granted leave to stay.
A Home Office spokesman said: "All applications for leave to remain are considered on their individual merits in line with the immigration rules.
"Immigration officials contacted Mrs Macleod's representatives on 21 October to inform them that she has been granted leave on an exceptional basis for 30 months."
Mrs Macleod's husband Robert is originally from Dingwall.