Pucker up: The people with a passion for whistling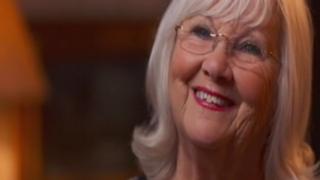 A talent for whistling has enabled Sheila Harrod to travel the world.
She's a professional whistler who has performed on television and at international events during her career, which has spanned several decades.
Sheila is one of the enthusiasts who appear in a new BBC Alba documentary, Feadaireachd.
It set out to examine why people whistle, and whether this international language is a dying art.
Sheila, who was born in Stoke-on-Trent, won UK and world whistling championships in the 1990s - success which changed her life.
Discussing her talent, she tells the programme: "I like to say it is a blessing, but perhaps other people don't think so."
'Film star'
A nurse may have spotted her musical potential when Ms Harrod was just a newborn baby.
The professional whistler, who has also appeared on Blue Peter, Graham Norton and James Whale's television shows, says: "The midwife told my mum that I would be a very good singer because I have a very high roof to my mouth.
"Whether that helps me whistle or not, I don't really know."
Growing up, she was taught to whistle by boys she played with on her street.
Ms Harrod's parents were so impressed with their daughter's whistling that they arranged for her to perform at a working men's club when she was 13.
Later, after winning a UK event in Eastbourne in 1992, she was invited to compete at a world whistling championship in Berlin.
Ms Harrod said she felt daunted at first by the prospect of competing against both male and female whistlers.
But she said: "It was great. The German audience was fantastic. They were lovely and I felt like a film star when I had won - there was telly and cameras everywhere.
"It changed my life in a lot of ways."
Scots musician Pat McAleer also features in the programme, along with enthusiasts on the Isle of Lewis and "whistling postman" James Macdonald - who has been whistling tunes on his rounds on Skye for the last 15 years.
Mr McAleer says: "I just do it for fun. I don't have a mission in life where I want to make more people to whistle."
Powerful connection
John Lucas, author of A Brief History of Whistling, tells the documentary: "The wonderful thing about whistling is that it is the most wonderful of international languages because you don't need words."
The documentary also examines silbo gomera, an ancient whistling language.
It dates back to the pre-Hispanic era in La Gomera in the Canary Islands.
Language experts believe it originated with the Berbers, indigenous people in La Gomera who arrived on the island from Africa.
Silbo gomera was used by farmers to communicate information across valleys.
In 2007, Unesco designated silbo gomera as an Intangible Cultural Heritage of Humanity.
The language is also enjoying a revival among young people, partly because it is a compulsory subject in school but primarily because they feel a powerful connection with their cultural identity.
Feadaireachd will be shown on BBC Alba from 21:00 on Monday 31 October.