Royal National Mòd to begin in Stornoway on Lewis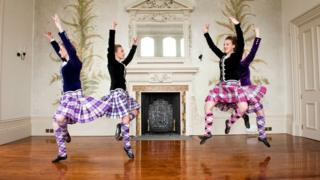 Scotland's biggest celebration of Gaelic culture, the Royal National Mòd, is set to begin.
The nine-day festival is being held in Stornoway on the Isle of Lewis. It was last held in the Western Isles in 2011.
The Mòd features song, music, dance and arts competitions as well as performances.
Headline performances by Gaelic group Dàimh and the Mischa Macpherson Trio, will feature in the opening ceremony.
Lewis Pipe Band is also to lead the festival's traditional opening night torchlight procession.
As well as being a cultural event, the Mòd is held up as an important economic driver.
Organisers An Comunn Gàidhealach said last year's event in Oban was estimated to have generated about £3m for the local economy.
For this year's festival, a special edition tweed has been created to mark its return to the Western Isles.
Shawbost-based Harris Tweed Hebrides was commissioned to make the new tweed. It includes the colours of the crest of An Comunn.