Mad Max costume designer to appear at Cromarty festival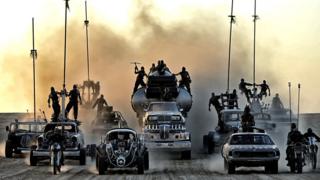 Oscar-winning costume designer Jenny Beavan, novelist Michel Faber and film-maker Kevin MacDonald will be guests at December's Cromarty Film Festival.
Movies Beavan has worked on include Gosford Park and Mad Max: Fury Road.
Fury Road's Glasgow-born producer Iain Smith and head of visual effects Andrew Jackson were guests at 2015's festival.
Faber's book The Crimson Petal and the White was adapted for a BBC TV drama, while Under the Skin was made into a film starring Scarlett Johansson.
Glaswegian MacDonald's films include Black Sea starring Jude Law and The Last King of Scotland starring Forrest Whittaker and Scots actor James McAvoy.
Macdonald shot scenes for his 2012 historical adventure, The Eagle, around Achiltibuie and Old Dornie, near Ullapool. Locals also had roles as extras.
Other guests announced for the film festival in Cromarty from 2-4 December include broadcasters Jon Snow, Kirsty Wark and Scottish novelists Ali Smith and Ian Rankin.