Danny MacAskill gets his daring from his mum, says dad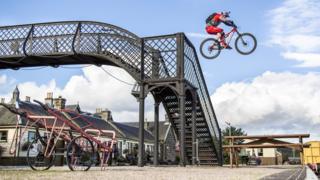 Skye-born street trials cyclist Danny MacAskill gets his love of daring adventures from his mother, his father has said.
Anne MacAskill, 67, from Skye, and her friend Kay Simpson, 69, completed the 10,000-mile (16,093 km) Mongol Rally in an old van earlier this year.
Peter MacAskill, who appears in his son's latest stunt video, said: "He takes his courage from his mother.
"Adventure is definitely in their genes."
MacAskill's new short film Wee Day Out features Scotland's famous West Highland Line railway, including the Glenfinnan Viaduct.
His stunts are performed on bridges, a straw bale and a giant puddle.
Previously, he has been filmed on the rooftops of a town in Gran Canaria and the Cuillin Ridge on Skye.
His father told BBC Radio Scotland: "As a wee boy he was always on his bicycle then, in his teens, he was up on a fence or walls, or the top of telephone kiosks and bus shelters. Anything he could get height to then jump off with his bicycle.
"We got used to it and in his teenage years he never really had any breakages or serious injuries. He had cuts and bruises right enough, but nothing serious.
"It was only when he left Skye that he broke his collar bone twice and had an operation on his back a few years ago."
Asked if he had been a stunt rider in his youth, Mr MacAskill said: "No, definitely not.
"He takes his courage from his mother. Definitely not from me. A few weeks ago she was on the Mongol Rally across Europe and Russia."